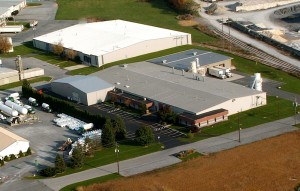 Premier Custom-Built Cabinetry was born out of a passion for crafting fine custom cabinetry. Employing a small group of experienced craftsmen, Marlin Horst started the company in 1991 in Lancaster County, Pennsylvania, where some of the world's finest cabinetry is built.  Marlin believed that the company's success depended upon simply being faithful to his values of excellence, teamwork, and giving back to the community.  With those goals in mind, Marlin and his team began to build both a world-class product and organization.
As the company prospered, Premier began attracting gifted craftsmen and loyal design partners. Through the next fifteen years Premier became known for their quality products and association with the most talented designers in the country. Premier's customers loved the beautiful and durable cabinetry that was backed by integrity of craft and company. It was during these years that Premier created a unique and recognizable identity and firmly established itself as a national leader in the highly demanding, ultra high-end cabinetry market.
Premier celebrated a watershed event in January, 2012 when Sheldon Horst, Marlin's son, accepted the invitation to step into the role of President and partner with his father in leading the company into a 2nd generation of success.  Sheldon's appointment came after a three-year period in which he was immersed in life at Premier: working in the shop, partnering with designers, and apprenticing under Marlin.  Sheldon has embraced his role wholeheartedly with vision and energy to serve, listen, and lead.  His organizational skills, engineering background and discerning leadership are the perfect complement to Marlin's skills as they guide Premier into a new season of growth.
As Sheldon and Marlin consider the future, both are committed to that original passion of crafting fine cabinetry and the values that made Premier into an industry leader: collaborating with their partners, investing in their employees, and giving back to the community and the world.  As they do this faithfully, Premier is certain to make thousands of homeowners around the country extremely proud of what's in the kitchen—Premier!
"I have been blessed to have a tremendous group of people to partner with over the years.  Our fine craftsmen, design associates, vendors, and especially each valued client have made our success possible.  We look forward to serving you next!"
Marlin Horst
Founder
Premier Custom-Built Cabinetry