Premier Outdoor Features & Benefits
Premier's high-performance cabinetry includes features and interior options not found in other outdoor products.
Here are just a few of the things that set us apart:
Stainless Steel & Wood Door Styles
Stainless Steel doors are available with either a Brushed or Powdercoat finish. Our wood doors, which are inserted into a metal frame, are available in African Teak in a choice of colors. Metal frame finish options on the wood doors are Brushed Stainless or Powdercoat.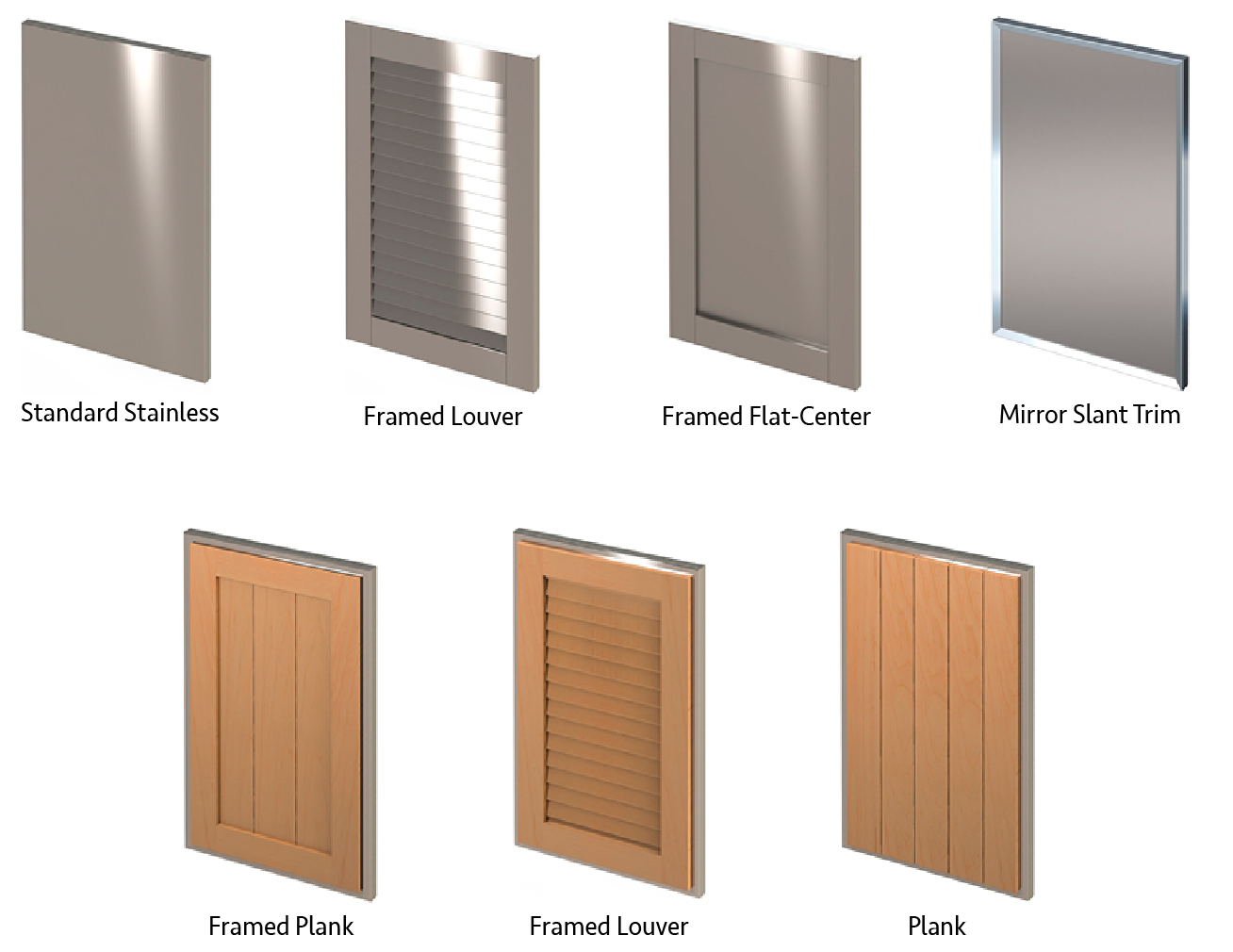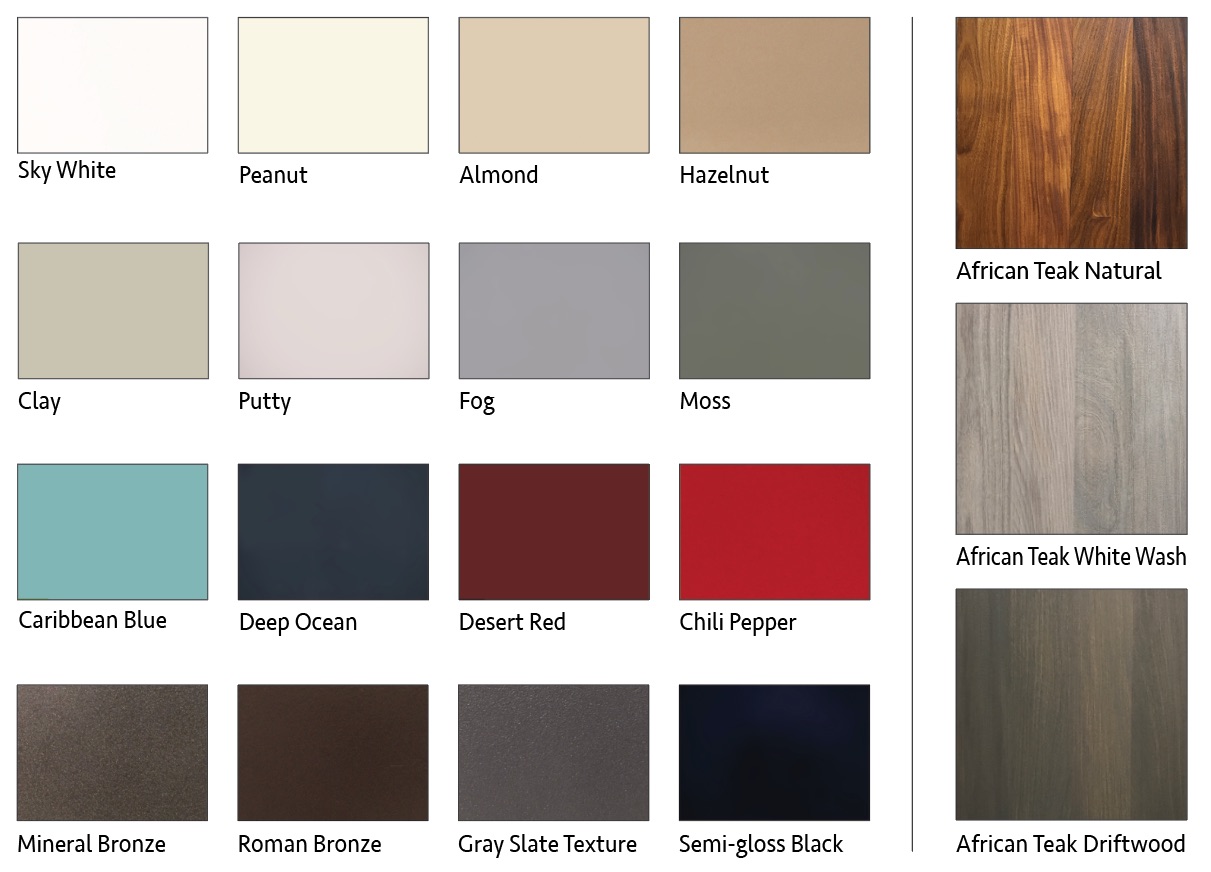 Powdercoat & Wood Finish Options
Premier offers 16 Powdercoat and 3 Wood Finish options as part of our standard palette; however, there are many additional color choices for both powdercoat and wood.
Because color shows up differently on computer monitors, all colors should be viewed as a representation of the finish and should not be used for final selections. A sample must be ordered.
Polished & Brushed Stainless Combination
A slant edge detail in polished stainless steel, brings a sophisticated sparkle to this door and drawer style. Creating subtle contrast is the brushed stainless steel center panel.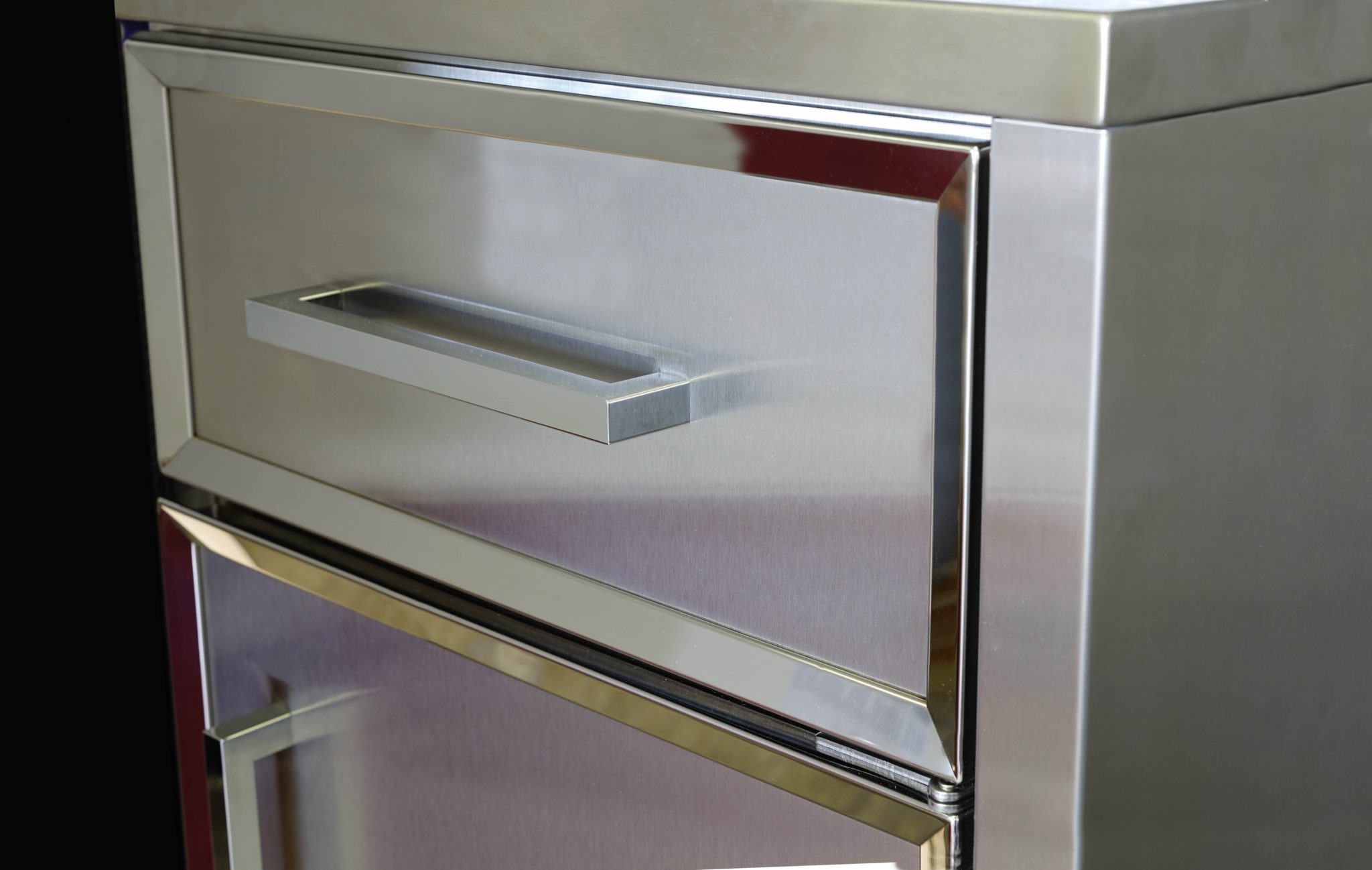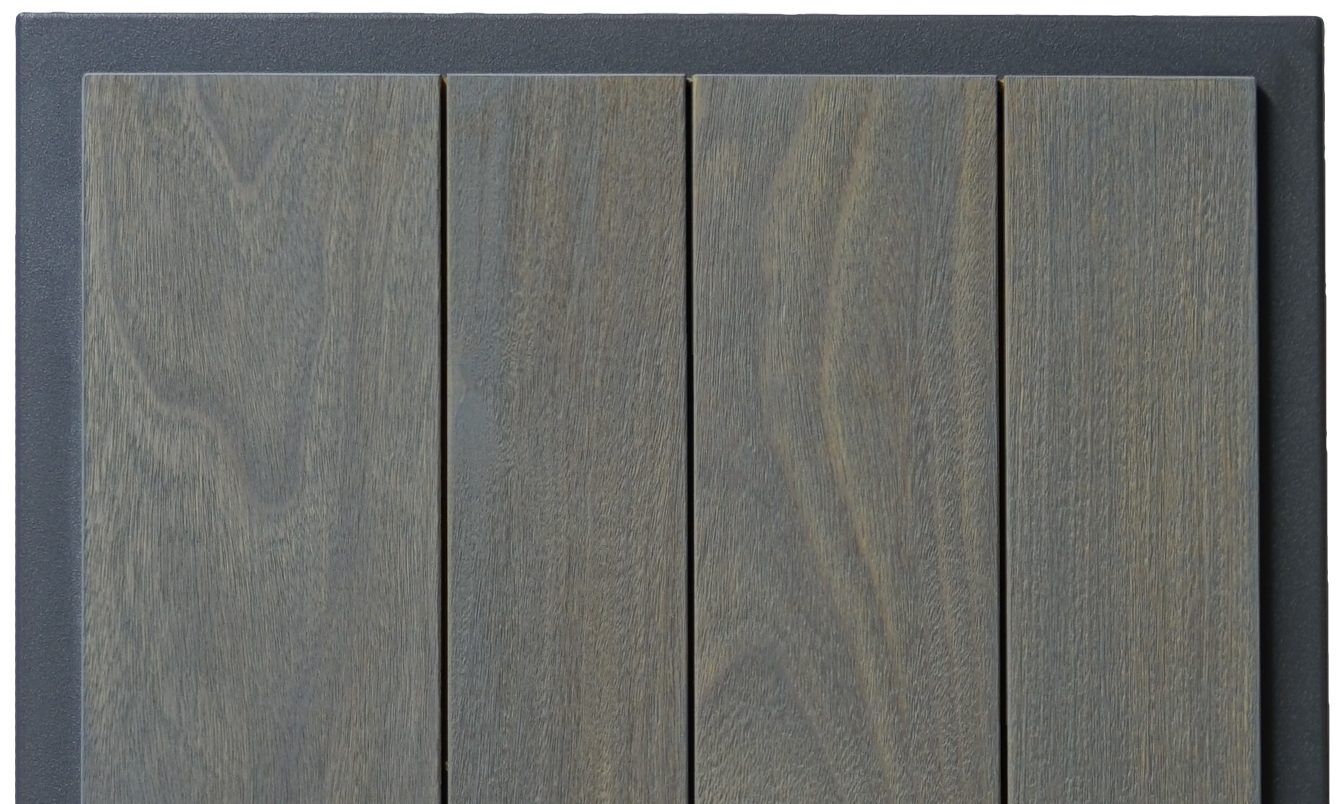 Gray Slate Texture is our textured Powdercoat color. Available on all stainless and wood framed doors, this fine texture with matte finish creates an elegant look.
Shown Left: Storm Gray Texture and African Teak Driftwood
Cabinet Construction Details
Attention to detail is the difference between something good and something great. Our construction details provide the best possible solution for great product performance and long-term durability.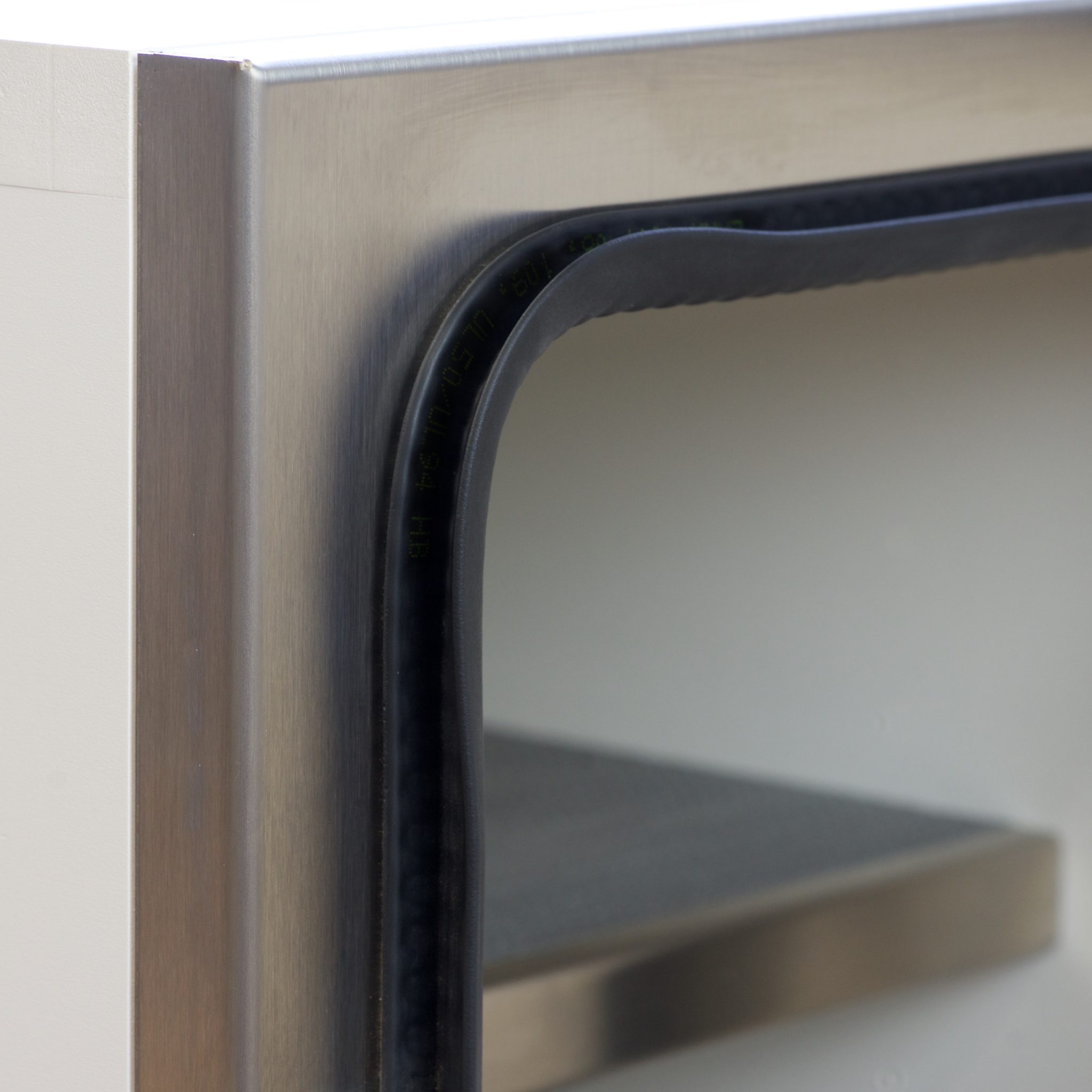 Gasket Seal
Our gasket, which is mounted to the stainless steel cabinet face, creates a waterproof, weathertight seal when the doors and drawers are closed. 
Watch our water test video here.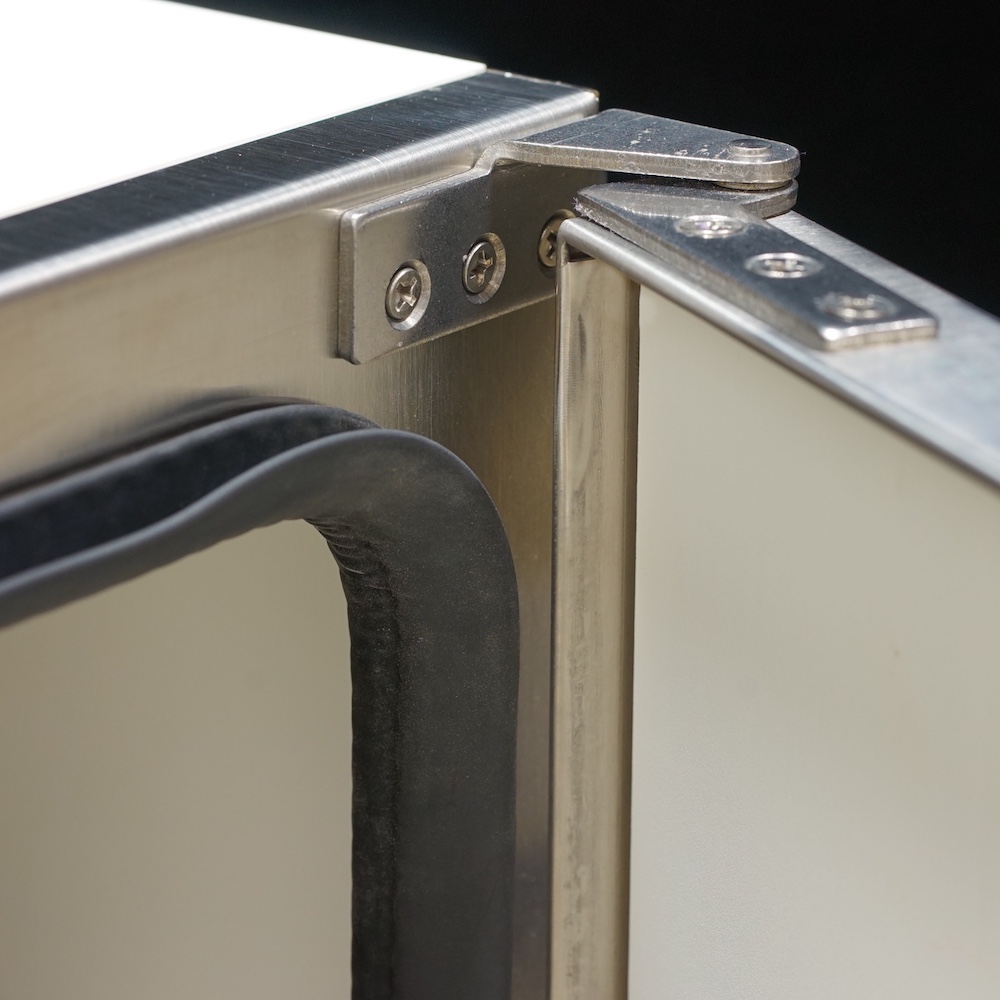 Pivot Hinge
Our high quality, stainless steel, face-mounted pivot hinge has a fixed mounting. This hinge allows the door to swing freely, opening to 180º.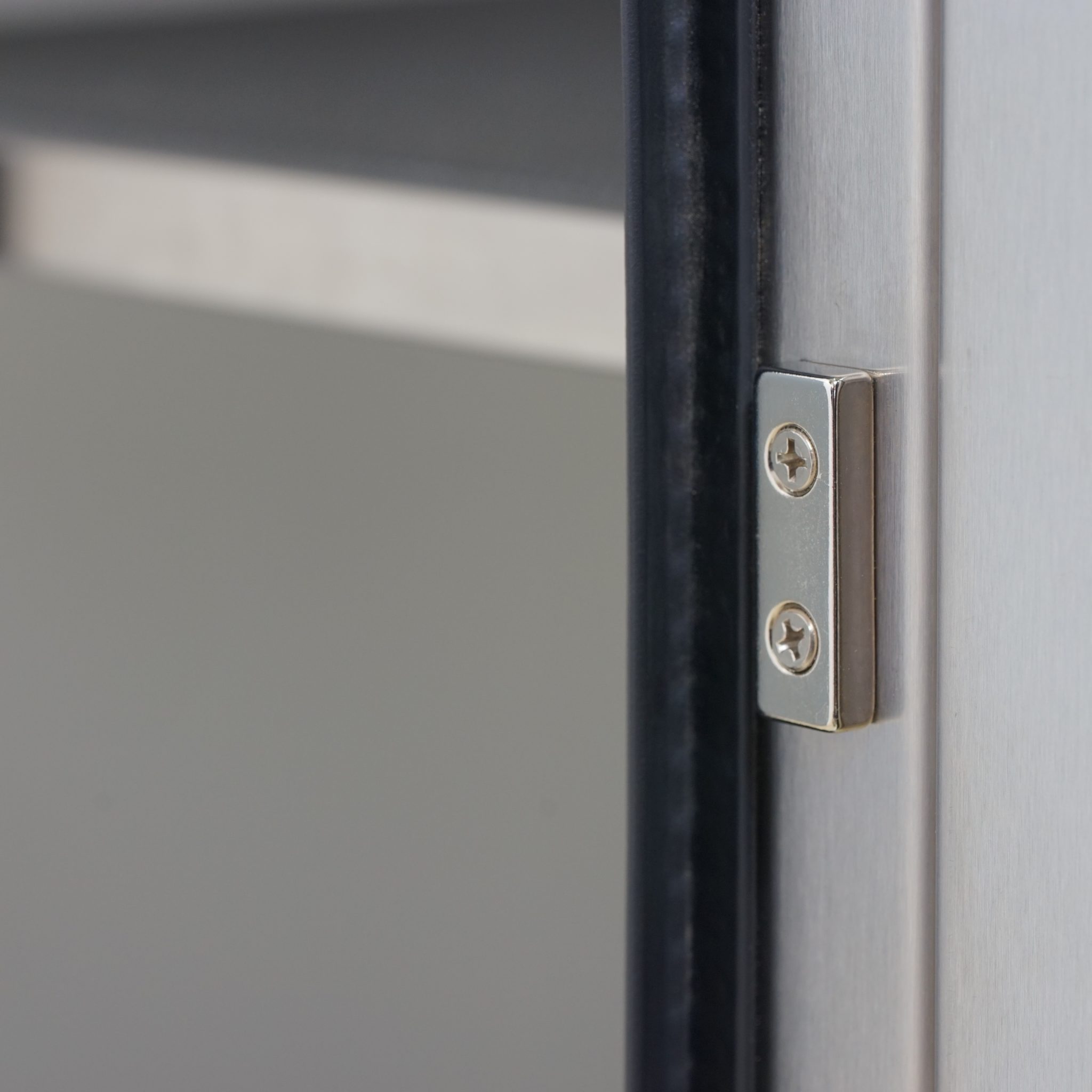 Earth Magnet
A high-powered Earth Magnet keeps our doors and drawers tightly closed to ensure a watertight, weatherproof seal.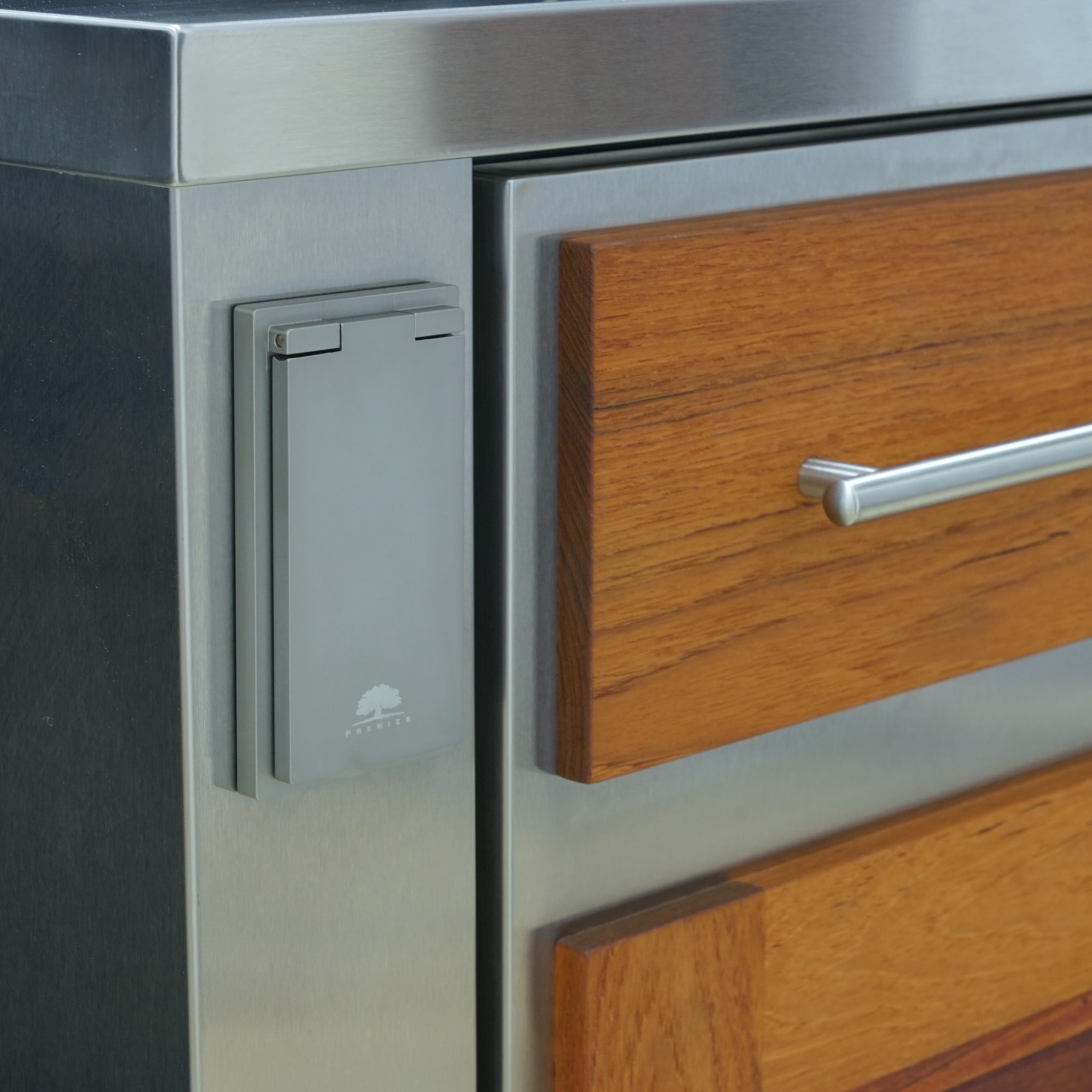 Integrated Outlets
Our custom designed and engineered duplex outlet box features a gasket seal cover. Outlets are installed on 4" wide end panels.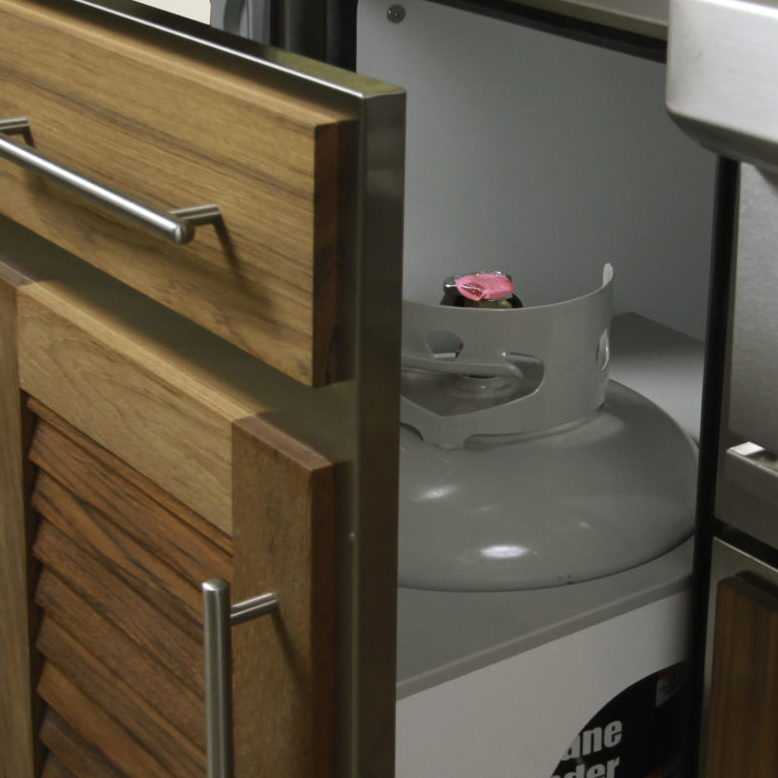 Propane Storage
Mounted on full-extension heavy duty drawer slides, the propane tank is secure, easily accessible, and beautifully concealed.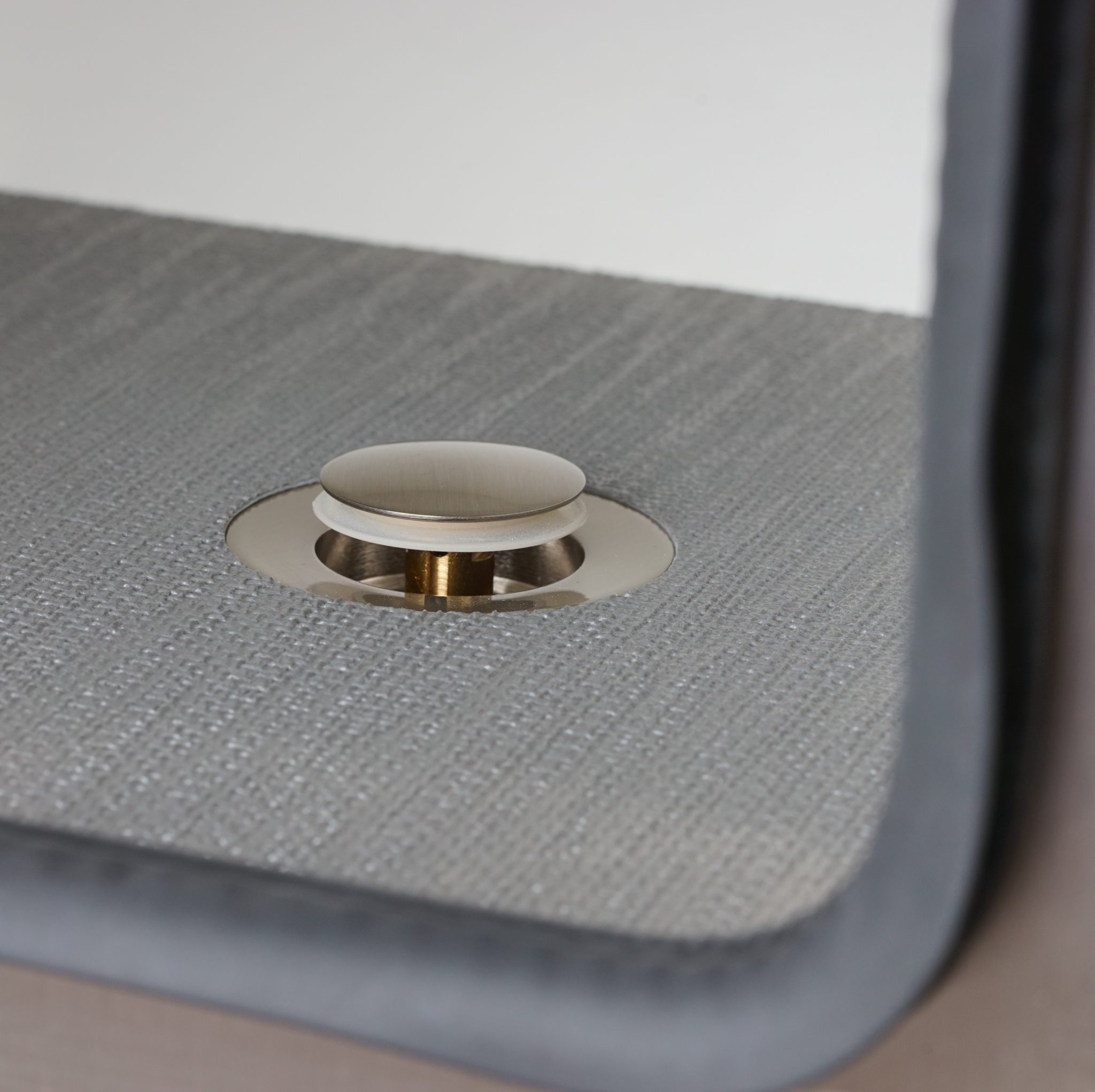 Floor Drain
A pop-up floor drain is available as a modification to your cabinet. The drain sits flush when closed. Push to open as desired for ease of cleaning. Not recommended for drawer base cabinets.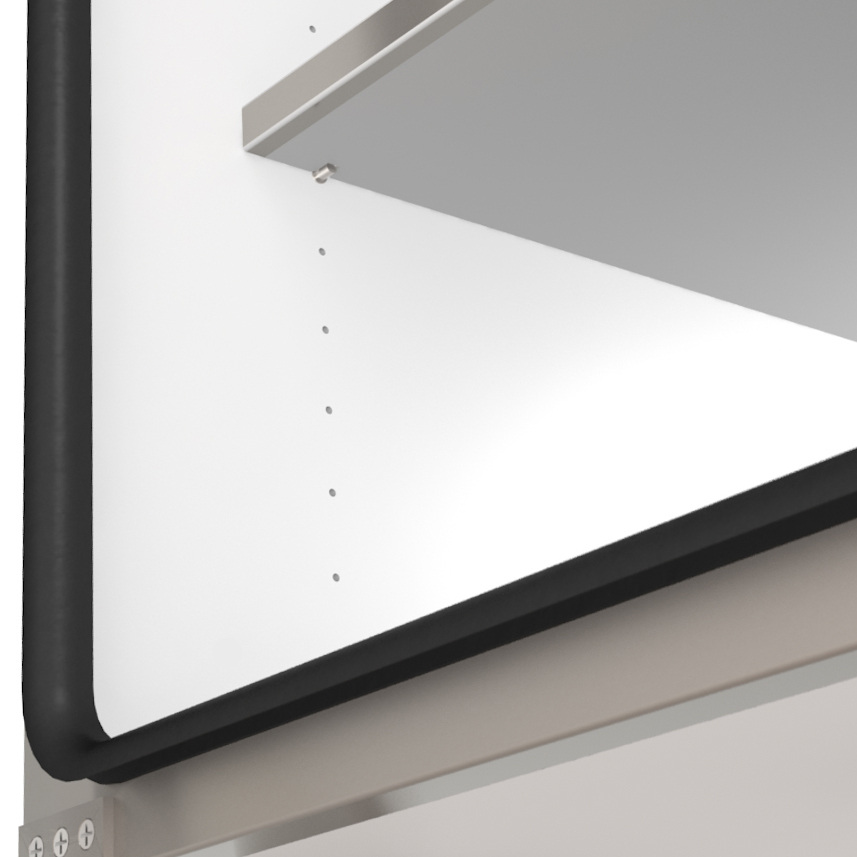 Adjustable Shelf
Our adjustable shelves are 3/4″ thick with a 3mm support pin. Shelves are notched to keep the shelf from moving forward on the pin. Shelf material is the same as the cabinet case material. All shelves have a stainless steel front edge, which adds not only a beautiful aesthetic but durability as well. A non-skid liner is included on all shelves and cabinet floors.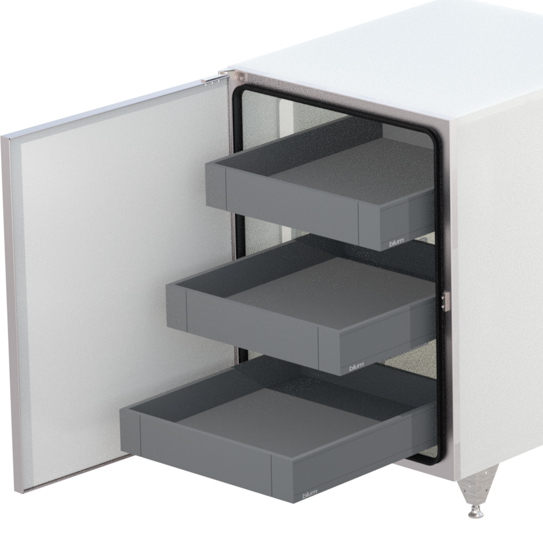 Rollout Shelf
Roll-out shelves consist of a powder-coated metal drawer box on full extension, soft-close, under mount drawer track. The drawer bottom and back is 1/2″ thick gray, polyethylene. Roll-out shelves are available in shallow and deep heights.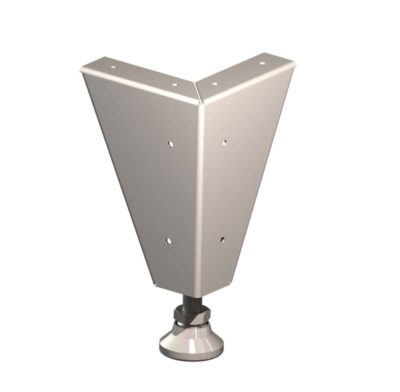 Leveling Leg
Our custom designed stainless steel, adjustable, leveling leg provides a range of 4-1/4″ minimum to 5-3/4″ maximum toe heights. A swivel foot allows for easy installation on stone and other uneven surfaces. All legs have an attached block, which provides a screwing area for installation of the toe panel.
With Premier Outdoor Cabinetry you have various installation options. Cabinetry can be free-standing, placed against an existing wall, or set into a masonry structure. Free-standing cabinets are designed to have applied End and Back Panels.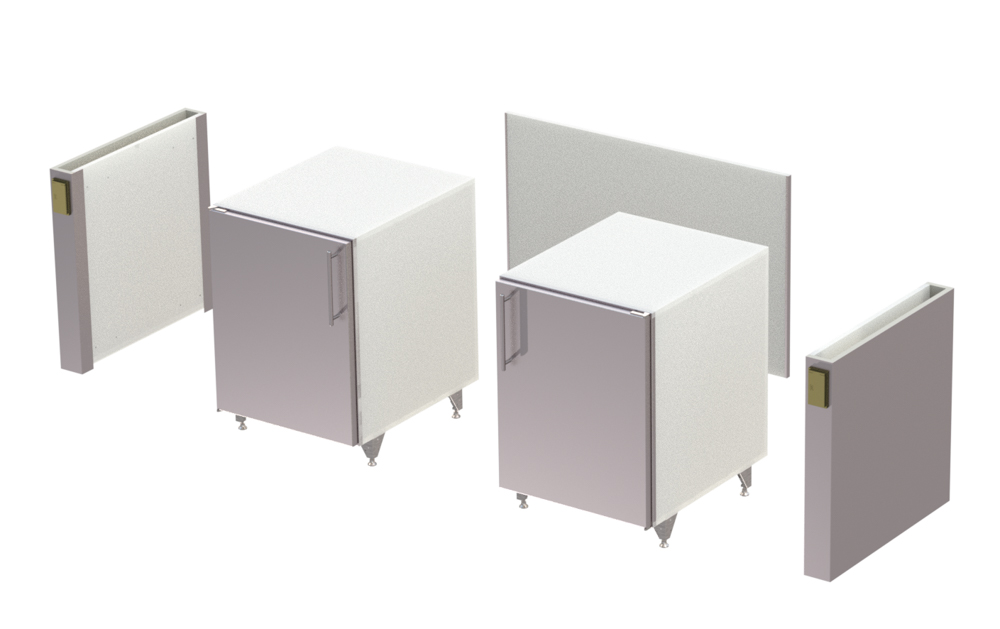 More Reasons to Choose Premier Outdoor Cabinetry
Made in the USA
Skilled Craftsmen
Industry-Recognized service
Expert engineering
Superior product design
Specialty cabinets
Custom sizes
Custom colors
Interior Accessories
The PDFs below can be downloaded and are formatted for easy printing.