New Holland, PA – Premier Custom Built Cabinetry, located in New Holland, PA, recently introduced a new line of products, The Outdoor Cabinet Collection by Premier.
Designed specifically for use in outdoor kitchen applications, Premier's outdoor cabinet case boasts watertight construction with a stainless steel face frame and sealed door and drawer openings. Soft close drawer slides, fully integrated lighting, a remote locking system, pivoting stainless steel leveling legs and interior accessory options are only part of the story. Smartly engineered and offering state-of-the-art materials: woods, metals, and powder-coat finishes can be combined to meet the needs of the most discerning clients.
"We love to spend time outdoors and as a result our homes are expanding to include an Outdoor Kitchen. Imagine how our kitchen designers will interpret their client's needs when they have the ability to provide beautiful, functional and durable outdoor cabinetry," said Sheldon Horst, President of Premier.
Landscape and hardscape designer Jarod Hynson, owner of the firm Earth, Turf and Wood in Denver, PA, couldn't agree more! As a matter of fact, Jarod was so enamored with Premier's outdoor cabinet initiative that he designed an outdoor space for his family, which incorporates a 30' Teak and Stainless Steel kitchen. "This kitchen is the center of our outdoor living and entertaining area," said Jarod. "I love the fact that it's both visually stunning while being extremely weather resistant. As an outdoor space planner and designer I see a lot of opportunity for a high-performance product such as this."
With so many solutions and product choices Premier's design associates can be as creative as they want when bringing indoor elegance to outdoor living with Premier's Outdoor Cabinet Collection. Visit Premier at www.premier2021.wpengine.com.
Shown here –
Landscape and hardscape designer Jarod Hynson created the ultimate outdoor space by combining a pavilioned living area, complete with a 30' Teak and Stainless Steel Premier outdoor kitchen, with a white-clay bottom pond. Geared for year round entertaining, family and friends can relax by a roaring fire or swim in the pond on a hot summer day. The space also boasts a big screen TV, lighting for nighttime entertaining and a host of appliances including; a 50" grill, side burner, warming drawer, refrigerators and an icemaker. Bar height seating is incorporated into the cabinet design, while additional tables provide multiple dining areas.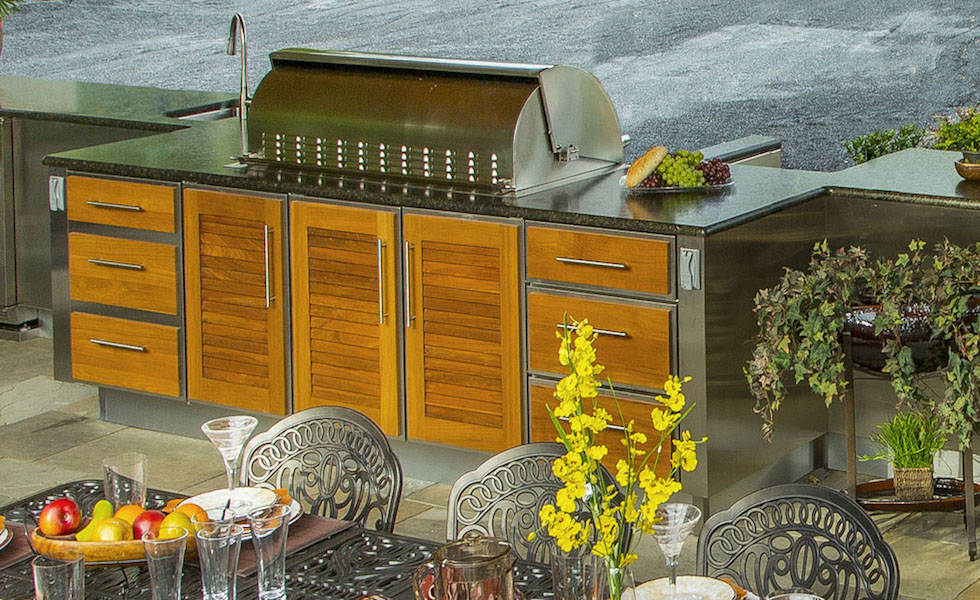 Photo's are courtesy of Earth, Turf and Wood www.earthturfwood.com
For more information on the products and design shown here contact Andy Tobias, CKD at Premier andyt@permiercb.com or Jarod Hynson of Earth, Turf and Wood at jarod@earthturfwood.com.